J&K: Nailing the Lies
27 Jan, 2015 · 4819
Shujaat Bukhari writes why Liaqat Shah's acquittal by the NIA has a potential to set a benchmark for justice
---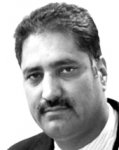 Shujaat Bukhari
Editor in Chief, Rising Kashmir
When 46-year-old Liaqat Shah of frontier district Kupwara in Jammu and Kashmir was arrested on March 23, 2013 at the Indo-Nepal border as a "suspected" Hizbul Mujahideen (HM) terrorist, it created a furor in Kashmir. From a commoner to the then Chief Minister Omar Abdullah, the arrest was seen as a concocted story since Liaqat was returning home from the other side of Kashmir along with his family under the rehabilitation policy. The policy, announced by the government, is for the youth who had crossed over to Pakistani side of Kashmir in early 1990s who now want to return home and live a dignified life.


Amidst resistance from the Jammu and Kashmir Police that was in loop in case of his return and pressure mounted by Omar Abdullah, the case was handed over to National Investing Agency (NIA) since people's faith in Delhi Police has shattered over a period of time. Though Liaqat was granted bail, the investigations were taken up by NIA that finally exonerated Liaqat and recommended punishment for the policemen who had framed him as HM militant who was sent to guide a fidayeen attack in Delhi.


The NIA probe has surely raised the hope for those who have been jailed and condemned, unheard by Delhi Police's special cell in past over two decades. It has helped to restore faith and credibility in the institution of justice. But Liaqat's case was a unique case in which the state government took extraordinary interest in seeing that the probe is done by an elite agency such as NIA. It was perhaps about the credibility of the state itself that had unveiled the much ambitious policy for rehabilitation of youth under which more that 300 people crossed back to Kashmir through the Indo-Nepal route that is not designated as per the policy. It was an unwritten agreement between the state and Central government and facilitated duly by the government in Pakistan, that would have come under flak from extremists for draining out the strength for a "cause that needed to be seen as indigenous". But restlessness among these youth who had been away from their families for long time was increasing and it was difficult for any government to stop them.


However, in the backdrop of Liaqat's acquittal, the larger issue that merits a debate is how scores of innocent Kashmiris have fallen prey to machinations of certain agencies particularly Delhi Police, which has been framing the young people in false and fabricated cases. When a Kashmiri is arrested or booked in such a case outside the state, it becomes extremely difficult for him and his family to get a defence.

In a hostile environment that works under the smokescreen of so-called national interest it defeats the very logic of civil liberties. Even the lawyers are not prepared to take up the cases fearing reprisals from the agencies that are responsible for these false and concocted cases which finally fail the test of the law. We have seen in the past how a respected journalist Iftikhar Gilani was framed despite being known to the media corps of Delhi as a genuine scribe.
There are ample evidences that suggest how lives of many Kashmiri youth were ruined by the cops who went scot free. To cite a few examples : Only in October 2014, Delhi High Court acquitted Farooq Ahmad an engineer from South Kashmir after 18 years. He had been falsely implicated in Lajpat Nagar blasts of 1996. Mushtaq Ahmad Kaloo of New Colony, Sopore, accused of conspiring to bomb New Delhi Railway Station in 2006 was acquitted of all charges by Delhi High Court in May 2013. In November 2012, Delhi High Court acquitted Mohmmad Ali Bhat and Mirza Nasir Hussain of Srinagar of all charges leveled against them in Lajpat Nagar blast case of 1996. In April 2014, a Lucknow court acquitted Gulzar Ahmad Wani of North Kashmir along with two others in a bomb blast case of 2000.


In a detailed investigative report in 2012, titled "Framed, Damned and Acquitted", Jamia (Milia Islamia) Teachers' Solidarity Association nailed the "lies" in 16 high profile cases and concluded that all those arrested were framed by various security agencies. Most of those framed were Kashmiris. Calling it as "proverbial tip of iceberg" the JTSA maintained that its investigation was purely based on court judgments. "We document here 16 cases in which those accused of being operatives of various terrorist organizations (Al Badr, HUJI, Lashkar-e-Toiba), arrested in main by the Special Cell of Delhi Police, were acquitted by the courts, not simply for want of evidence, but because the evidence was tampered with, and the police story was found to be unreliable and incredulous" reads the preface of 171-page report. In its demand note JTSA had asked the government to take corrective steps to arrest this growing trend.

Among other things it sought public apology from the government and the investigating agency to those who had suffered wrongful arrests, prosecution and incarceration and scrapping/disbanding of the Special Cell of Delhi Police.


Cases like that of Liaqat is an eye-opener in respect of both sides of the story. While it unravels the impunity with which the innocent youth have been framed in fabricated cases and in the manner the mechanism going without any notice so far, it also generates hope that even the sections of the system could work in bringing the justice. It is pertinent to mention that in the case of fake encounter at Pathribal in March 2000, when five Kashmiri youth were branded as foreign terrorists and burnt to death by Army in the aftermath of killing of 35 Sikhs in Chattisinghpora, the Central Bureau of Investigation (CBI) had charged five Army officers with murder. It is a different issue that they got relief from Supreme Court when the CBI's plea for trying them in civil court was rejected.


Even as it is difficult for these acquitted young men to compensate for the lost glory of their lives, but NIA's investigation has a potential to set a benchmark for justice in such cases. The circle can only be complete when the fabricators are punished under the law, which they tried to misuse apparently to get rewards and punishments. According to Liaqat's statement at least 1500 families were discouraged to return after his case. This is how the systems fail when accountability is given a damn by those who think they are above law and have protection in the "national interest".
Originally published in Rising Kashmir on 27 January 2014