Jammu & Kashmir: The New Battle
22 Jul, 2014 · 4579
Shujaat Bukhari writes about the dynamics involved in the state elections in Jammu & Kashmir
---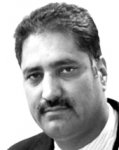 Shujaat Bukhari
Editor in Chief, Rising Kashmir
With Congress and National Conference deciding to go alone in the forthcoming Assembly elections, the electoral battle in Jammu and Kashmir is poised for an interesting contest. In both the Kashmir and Jammu divisions a triangular contest could throw up some surprises. The ruling coalition partners are, however, making some "thought provoking" statements as to why they parted ways. The NC holds the view that it was not possible to transfer the votes of their respective cadres but Congress has made some interesting points. Pradesh Congress Committee (PCC) chief Saifuddin Soz blamed the government inefficiency and corruption for the debacle both the parties had to taste in the recent parliamentary elections.


Generally the coalition parties should have been highlighting the joint achievements and even if they had to fight elections on their own, the reasons could be different. But this is perhaps the only coalition in India that is parting ways on the basis of misgovernance. Soz blames the government, of which his party is a part, as corrupt. That means whole lot is indulging in corruption. But if NC leaders are to be believed they maintain that Congress ministers were more corrupt. One thing is clear that both NC and Congress have vindicated the people's verdict they gave in recent elections. It reversed all the decisions it had taken in past five years proving that it had no competence to comprehend what was good for state. Coalition government's failure to tackle the corruption was main reason for misgovernance and that is why the people rejected them in Lok Sabha elections. In normal circumstances it would have been ideal for both parties to join hands and go to polls with the "achievements" of six years but they are instead blaming each other for the failures.


Now that the scene is clear all the parties have their knives out to realize the dream of governing the state until 2020. The magic number of "44" is lurking in the minds of these political parties and some of them claim they will achieve it on their own. What is surprising is that the right wing Bharatiya Janata Party has been talking more about "44" given the fact that the results of recently held parliament elections bolstered its confidence. The opposition People's Democratic Party, though not publicly, is also counting the same figure and is confident to repeat the performance it showed in the parliamentary elections.


But Congress and NC are two parties, which are yet to make a tall claim of reaching the magic number. Demoralized with the rout they faced in the elections, they even changed the language generally used to nail the opponents. Whatever way the campaign goes but one thing is clear that the dynamics of the electoral politics has certainly changed in the state. With people making a beeline to join PDP, it has become clear that the results of the parliamentary elections are being taken seriously and the party is rather expected to repeat the performance in the Assembly elections.
It is very difficult to predict any clear situation as the previous elections were fought for parliamentary seats and the forthcoming one is meant for Assembly.

Though not much difference is expected, it largely is the election, which has lot to do with the local candidate, whether from NC, PDP, Congress or BJP. If the reports are to be believed, one of the strongest candidates of Congress in Jammu shut his eyes for people voting for BJP candidate in parliament elections thus giving a stunning lead of over 50,000 to Jugal Kishore in this particular segment. But when it comes to his own election it may be different even as it will be difficult for him to reverse the trend to which he contributed himself.
If the claims of BJP and the independent assessments are taken into consideration, Modi wave still exists in Jammu and in case the BJP's plan of sending 22 Union Ministers and the Prime Minister for campaigning materializes it surely will have its own impact. BJP is trying its best to appease its vote bank by continuously talking about the rehabilitation of Kashmiri Pandits, refugees and the other contentious issues to lure the voters ahead of the Assembly elections. It may not be in a position to fulfill its wish list but it surely will gain and that will be at the cost of Congress and to some extent the NC. It has also started roping in some new faces in Valley to make inroads. It's working on an arithmetic that may suit it in view of boycott, particularly in Srinagar city. Riding on the goodwill the party has among KPs it is concentrating on a few seats in Srinagar so that the bulk of KPs would vote for its candidates who could sail through in view of near total boycott.


In case the trend that had been set after 2002 in Jammu and Kashmir gets reversed, Congress will no longer be in a position of being the "King Maker" in state politics. Since 2002 the state has seen the coalition politics thriving and smaller parties and even individuals emerging as potential gainers. Congress with substantial numbers played the role of having the key to formation of governments. It did pave way for Mufti Mohammad Sayeed to become Chief Minister in 2002 despite his party PDP having only 16 members against Congress's 20. And in 2008 it joined hands with NC to form the government. In both these tenures Congress used, rather misused, its position to get the maximum. First by running away with important and "lucrative" portfolios and then "black mailing" the chief ministers of PDP and NC on almost every issue.


This time, however, Congress seems to be on the back foot as the rout the party faced at national level and in the six parliamentary constituencies of J&K has given a severe jolt to its morale. Political pundits are not predicting immediate revival in its fortunes. If that would be the case then a new dynamic will be thrown up in the state. But it depends a lot on how NC will fare in the assembly elections. If it goes down drastically on its existing number of 28, that would be advantage PDP.


The concern rather a threat that will emerge in case voters do not prefer both NC and Congress is that BJP will have an edge in deciding the future coalition. The coalitions even with Congress, presumably the secular party, have turned out to be very unfriendly for Kashmir. If one would go to the extent of saying that Congress ministers have proved to be more communal than BJP it would be fair. In their 12 years of rule, Congress ministers, mostly from Jammu have not allowed any Muslim to hold an important position such as that of a head of a department or equivalent in Jammu region. There are many more examples like that. But in case a single party from Kashmir does not get a comfortable majority on its own, then it will be at the mercy of BJP and other forces who are essentially nurturing anti-Kashmir feeling in Jammu.


Imagine BJP winning nearly 20 seats and a party from Kashmir left with no choice but to join hands with them to form a government. BJP is eyeing 44 seats, which is very difficult to comprehend at this stage. Since NC conceded its whole space in Jammu to Congress, the voters both Muslims and those who don't support BJP's agenda were left with no choice but to go with them. Congress's misrule and its failure to replace a regional party like NC in Jammu paved way more for BJP than for another regional party PDP, which has surely improved its vote bank in the region. In both Kashmir and Jammu it is going to be a triangular contest with BJP, Congress and NC fighting a tough battle in Jammu along with PDP in certain areas, in Kashmir the battle is mainly between NC and PDP with Congress having strong base in few constituencies.


While all the prophecies about the results are premature at this stage, 44 and 2020 are important figurative signs for the health of Jammu and Kashmir for next six years.

By arrangement with Rising Kashmir