A stark reality
Youth and Jihad in Kashmir
24 Jun, 2014 · 4528
Shujaat Bukhari writes about the renewed phase of Kashmiri youth opting for violence to fight for their political rights.
---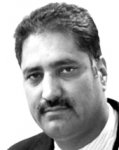 Shujaat Bukhari
Editor in Chief, Rising Kashmir
Last year when I wrote about the boys who had graduated in different streams and joined the "Jehad" in Kashmir and the increasing number of people joining their funeral prayers, many "analysts" responded by saying that it was "a mere exaggeration". But the killing of a young boy in Sopore on Monday stands testimony to the fact how the Kashmir society, particularly the youth, are identifying themselves with the renewed phase of militancy. The boy—Arshad Ahmad was not part of a group that was demonstrating against the breakdown in power supply, nor was he among those agitating for a Tehsil or a Block. He was part of the group that was protesting against the killing of a local militant in an encounter with forces a few hours before.

His killing is a grim reminder about how the state has lost control over its forces.
Once known as "Capital of Militancy", Sopore has a long history of being at forefront to voice the dissent. Notwithstanding the fact that Sheikh Mohammad Abdullah held the first meeting of the then converted Muslim Conference into National Conference in Sopore only after he faced resentment in Srinagar, the town has emerged as symbol of resistance for many decades now. It has paid the price for being anti-establishment as it voted the fire brand Hurriyat leader Syed Ali Geelani to Assembly at least three times, thus rejecting the traditional National Conference. When armed rebellion broke out in 1989, Sopore was leading the movement and one of the formidable organisation's – Hizbul Mujahideen's – base outfit Tehreek e Jehadi Islami was born here only. For being on the opposite side, Sopore has been neglected in development as compared to other towns. It records almost zero polling so the attention towards the development is well understood.


The incident on Monday refreshes our memory not only about the town but also the renewed phase of youth opting for violence to fight for their political rights. Some may call them misguided or paid, but the fact is that there are lots who choose this dangerous path with a conviction. According to outgoing General Officer Commanding (GoC) Lt Gen Gurmit Singh, the number of militants killed since 2013 in Valley is 102.

By any assessment and analysis this is a big number keeping in view the statements from the government that the militancy was waning and it should be considered as "residual". If the official sources are to be believed the number of local boys in the ranks has now crossed 50 percent. The militant groups also get the support at the ground level. In Sopore area alone there have been number of encounters in the recent past which suggests that the trend of "foreigners dominating militant ranks" is now reversing.


Not only are more boys turning to militancy as symbol of resistance but the public at large and their families have also openly glorified them. In a society of contrasts called Kashmir, there are people who queue up for voting, attend public meetings of mainstream parties but this stark reality also exists on ground that they have not "divorced" the militants. Thousands are seen chanting pro freedom slogans and women paying tributes by singing traditional wedding songs when the body of a militant is taken away to graveyard. When three militants were killed in an encounter in Tral last week, their families did not mourn but told journalists that they were "proud" of their children. Adil Mir (26) was the son of 55-year-old Bashir Ahmad Mir.

In March 2009 his eldest son, Naeem Mir, left home for the Islamic University of Science and Technology (IUST), Awantipora, but did not return. A final year student of B. Tech (Food Technology) at IUST, Naeem, joined Hizb and was killed in an encounter in September 2010. Exactly 21 days after his killing, Adil left home. Mir said the motivation for his sons has been religion, "Both of them followed religion in a steadfast manner and this is the only thing that motivated them to take up arms." I am very proud of my sons," says Mir. One may not generalize this phenomenon but there is surely a change in the society. After 2010 unrest in which 120 civilians were killed, the mode of agitation in Kashmir has been taking this route. Complete absence of political engagement and recognizing the fact that the distances between Srinagar and Delhi particularly among youth were increasing obviously has this route to take. Continued denial about aspirations of people only throws the space out for violence. Peace has not been allowed to substitute the violence even as it has created a conducive environment with two parallel engagements viz Srinagar-New Delhi and New Delhi-Islamabad for about five years from 2003. But with Mumbai coming in its way, New Delhi and Islamabad did not look back and hung their egos with that single happening.

The armed struggle in Kashmir has always had a strong backing of educated people. In 60s Al Fateh was the first armed group, which challenged Indian rule in Kashmir. It was led by qualified people who later on ended up in becoming top-level officers in the government. Similarly in 1989, the first batch of JKLF comprised of fresh college pass outs and later on a number of intellectuals, doctors, lawyers and academicians threw their weight behind the "freedom movement". It is not pure radicalization among youth that is taking them to this path, that too with a "sanction" from society. It has lot to do with the political reality on ground. Though rejected worldwide as an option to achieve a political goal, this resurgence in Kashmir is surely something that cannot be brushed aside. This amply makes it clear that the constituency of peace has not been capitalized and the political establishment has not recognized the transition from violence to non-violence. People in Kashmir have also shown their penchant against violence, but continued absence of political engagement does add to an atmosphere in which they feel cheated and betrayed. To neutralize the trend of violence again taking over all the spaces, re-opening of the process of dialogue and reconciliation is must, otherwise the youth will further repose their faith in violence irrespective of the results it throws up.

By arrangement with Rising Kashmir